A classic Thanksgiving cartoon
"A Charlie Brown Thanksgiving"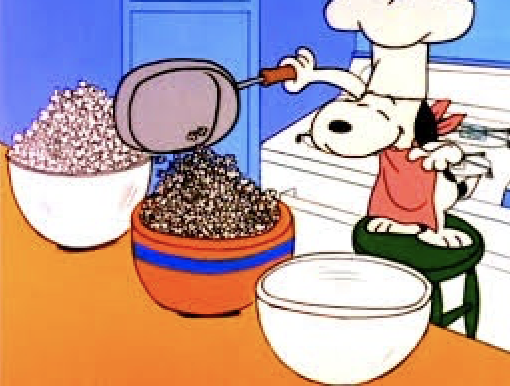 Tyler Schulz, Entertainment
November 25, 2018
Ask any passer-by on the street; I can almost guarantee their favorite season is autumn. What's not to like?  Hot chocolate and pumpkin spice coffee are raided from shelves and stores like it's going out of style. Fuzzy sweaters take to the closet and replace the summer t-shirts, and warm boots take the place of sandy flip-flops as the leaves change to vibrant colors of red, orange, and yellow. Pumpkins and gourds line every supermarket, while anything that could be flavored pumpkin stocks the front shelves. The only downside to fall, as some can argue, is that it means it is time to bundle up.
After Halloween passes, families start preparing for Christmas as soon as the spooky season is over. For those who like to take it one holiday at a time, many turn their focus to Thanksgiving. Unlike Christmas, there are not many movies or TV specials in honor of the beloved turkey day. However, in 1973, Charles M. Schulz wrote a piece to be directed by Bill Melendez and Phil Roman as a Thanksgiving classic. It is not uncommon to flip through channels and land the film in a few tries; how could anyone find this classic anything but enjoyable?
Charles M. Schulz, creator of the "Peanuts Gang," intended for his comics to be viewed in a positive light. The movie begins with an introduction of characters such as Peppermint Patty, Sally, Franklin, Marcy, Linus, Woodstock, Snoopy, and, of course, Charlie Brown. It was Thanksgiving, and Charlie Brown and Sally were going to have dinner at their grandma's. However, persistent Peppermint Patty invites herself and a few friends to Charlie Brown's house for the turkey dinner, and did not hesitate at the thought that Charlie Brown may have had other plans. By the end of the film, many characters learn valuable life lessons, and it is supposed that Charles Schulz wanted the audience to recognize these lessons as well.
Movie-watcher, Zak Kohlenberg gave  his thoughts on the hallmark movie and said,"I don't like the theme. It's too sappy and predictable." He also observed that it was boring and not as humorous as it was trying to be. Kohlenberg even went on to say that it seemed to have nothing to do with Thanksgiving itself .Despite the criticisms of the film, an interviewee happily expressed their passion for the film. "I love that movie! It's so funny and it really shows that the characters didn't need a turkey to have a good Thanksgiving; all they needed were each other. It was a memorable film, and my favorite part was probably when Snoopy fought with the chair." Madison Schulz  that it is possible that a hallmark movie with a cliche' message may be all that we need this year for Thanksgiving. Schulz even stated that without a glimpse of the film every year, the holiday does not feel complete. Make sure this year for turkey day you make yourself a cup of pumpkin spiced coffee and switch on the television to watch the Thanksgiving classic that, for many, never gets old.