Ms. Ninan- The Outstanding Biology Teacher of the Year/KRHS Teacher of the Year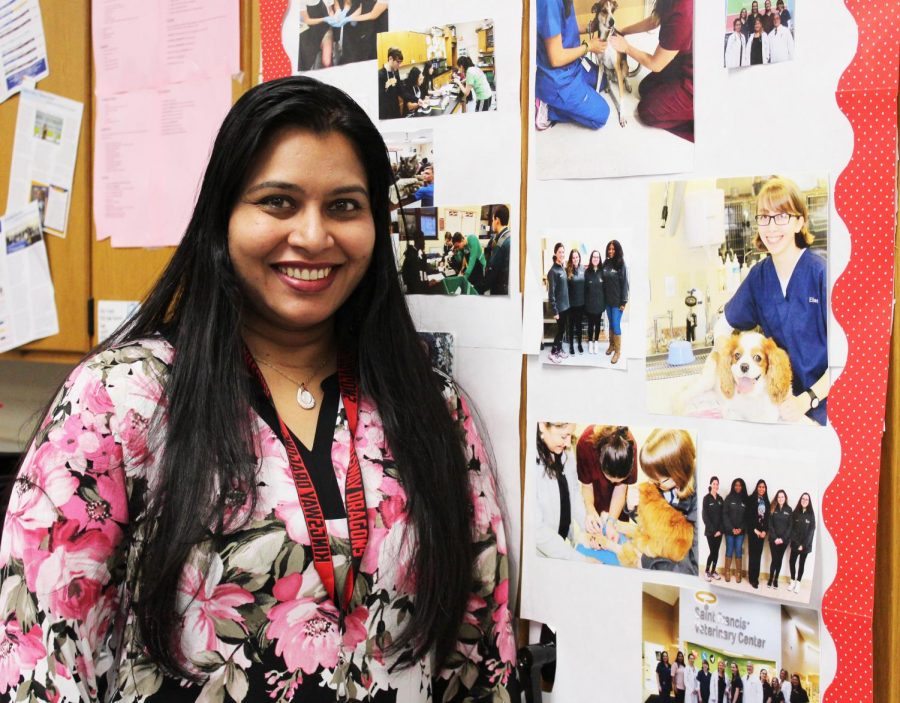 Maggie Faux and Felicia McHenry
November 30, 2018
Her phone rang. On the other line, a voice said, "Congratulations," and a smile grew on her face. The news was incredible. She was honored Outstanding Biology Teacher of the Year by the National Association of Biology Teachers (NABT).
This accomplishment, along with years of helping Kingsway students truly find a love for biology and animal science led to Ninan also receiving King-sway High School's Teacherof the Year Award in 2019.
Reena Ninan is a biology and animal science teacher who has been teaching for eighteen years at Kingsway and absolutely loves it. She grew up in India, where she got her Bachelor's and Master's degree, and then continued her education at Fairleigh Dickinson University in the states. Ninan is very passionate in her love for science and carries that into her inspiring and passionate teaching.
Out of all fifty states, thirty seven people were awarded the Outstanding Biology Teacher of the Year award, and Ninan was one of them.She mentions that she felt "very humbled" to be honored this award.
Ninan developed her interest in animal science from several internships, volunteering in shelters, and a realization of the endangered animals in the world. This was an eye-opener for her because she realized just how severe the problem was, and she wanted to do anything she could to help spread awareness to others. After being asked what made her interested in taking over the advisory position in the World Wildlife club, Ninan said she was "continuing her passion".
Ninan's animal science class teaches about bodily functions and all organisms ranging from unicellular to the largest mammals. The students are able to volunteer at St. Francis Veterinary Hospital to further their education. They are also offered internships and scholarships. She mentions that "if you love animals, this class is for you."
Around her classroom, Ninan has an assortment of animals ranging from turtles to fish and a bunny named Mr. Bubbles. She says that her favorite animals are seals and dolphins "because they are easy for humans to relate to because of their intelligence."
At first, Ninan started out wanting to become a pediatrician but that quickly changed when she realized she "couldn't handle seeing children suffer every day." From there, Ninan found what she truly loved, biology. She said she "loves biology and just wanted to share her love of biology with others." Not only has she has made an impact on the students she taught, she inspires many to follow their passion.