Varsity swimming is having record-breaking season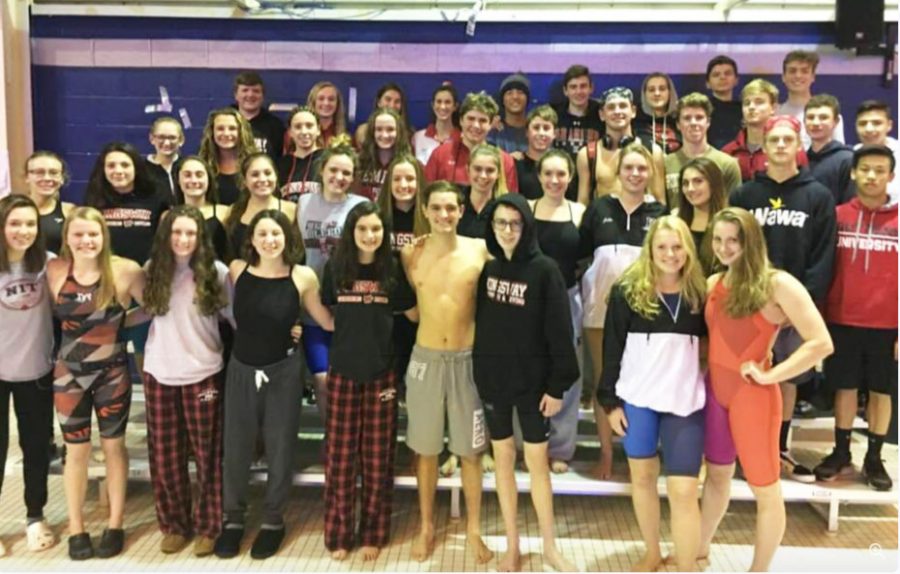 The girls'and boys' swim team under the direction of new head coach Shane Tubb is having a record-breaking season. The girls swim team  defeated GCIT Tuesday January 15th  increasing their record to 6-0.  The boys' team swam brilliantly that night, too, but suffered their first loss of the season  and are now 5-1.
Junior Richie Jaramillo won the 200 IM and 100 Back setting records in both with times of 1:58.40, and 53.22.   He said swimming against GCIT was " exhilarating"  and was happy to see so many of his teammates swim their best times of the season. Junior Connor Bowen set a school record in the 100 Free with a time of 47.87. These times also qualified the boys for the state meet.
The girls blazed through the pool, setting five school records that were also qualifying times for the state meet. Freshman Lyndsey Warner – won and set the 50 Free record with a time of 24.72. Sophomore Olivia Smith won two events, setting records in the  100 Back  with a time of 59.47  and the  200 Free with a time of 1:58.03. She credited her teammates for the records and said, "I wouldn't have broken the records without my team mates. We all got so excited together as a team that we encouraged each other and swam fast." The girls also set relay records.  Olivia Smith, Jenna Sprigman, Abigail Miller and Lyndsey Warner  teamed up in the 200 Medley relay to win and set a school record of 1:52.32. and also set a record of 3:41.71 in the  400 Free Relay.   
Other first place finishes for the girls included  Sophomore Abby Miller in the 200 IM and 100 Breast and  Warner in the 100 Free. Coach Tubb said, "I think that the GCIT meet was a fantastic display of the teamwork and effort that the Swim Team has brought to every day so far this season. We had almost every swimmer do a best time, and showed that we can compete in the pool with anyone. I couldn't be more proud of all of our athletes, and I'm excited to see how strong we finish off the season." The next big test for the dragons is at  GCIT on Friday as the boys and girls face off against Clearview at 7:45. 
Read more about the meet from NJ.com. http://highschoolsports.nj.com/news/article/-7931537305020258149/kingsway-edges-gcit-in-battle-of-unbeaten-swim-teams-photos/