Girls' and Boys' swim teams win Tri-County Showcase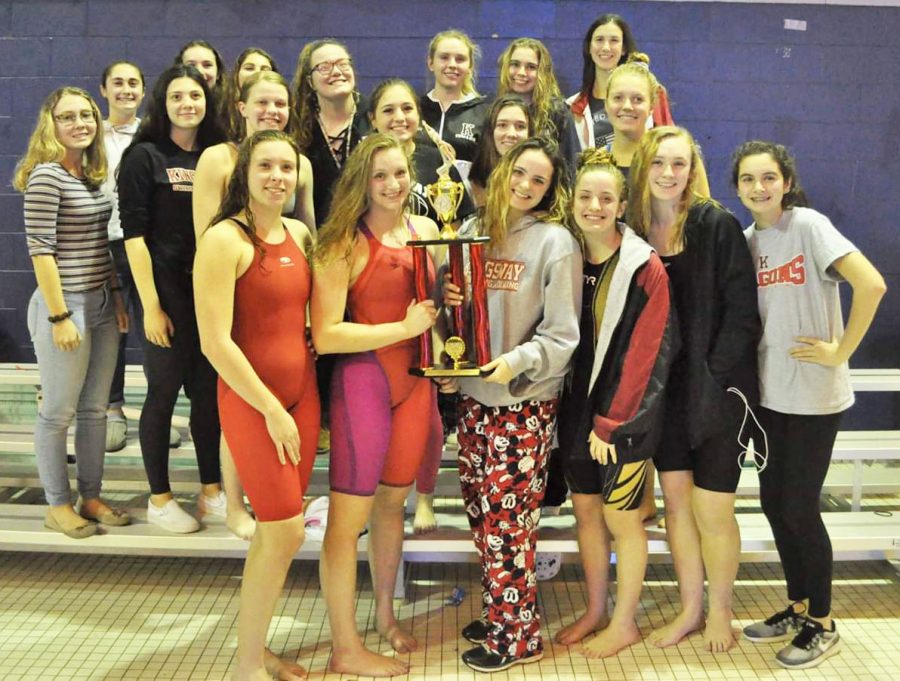 The dragon boys' and girls' swim teams have been doing more then making a splash in the news this season. They have been winning almost all their dual meets and Tuesday, Jan 29 they swam their way to 1st place in the Tri-County Showcase Meet placing first out of 16 teams. The girls finished with 253 points and the boys finished with 233 points.  The girls' entered the meet with a 9-0 record and the boys with an 8-1 record, losing only once in the season to GCIT.
     Tuesday, however, both teams came out on top of rivals and swim powerhouse teams from  GCIT, Gloucester Catholic and Clearview  because of some terrific swims under the direction of 1st year head coach Shane Tubb. Tubb refused to take credit and said, "I believe winning the Tri-County Showcase this year says more about the swimmers than it does about me. They bought into our program from day one, have been open to constructive coaching, and have worked as hard as any team out there. Most teams would take some time to adjust to new coaching, but our swimmers haven't missed a beat and are swimming fast at the right time. "
     The dragons not only appear to be swimming fast at the right time, but they are also breaking team and meet records. Tuesday they set five school records and two meet records.  Sophomore Olivia Smith and junior Connor Bowen had big nights. Smith finished first in the 200 Free, setting both a team and meet record with a time of  1:56.40. She also helped set a team and meet record in the girls' medley relay with  sophomore Abigail Miller, junior Abby Miller, and Freshmen Lyndsey Warner with a time of 1:52.19 Smith said,  "I just want to thank my team for being fun and supportive. We couldn't have broken the record without each other. We all get so excited for these meets."
     Integral in clinching the boys' title, Bowen  finished second and set a team record in the 200 Free with a time of 1:46.8. He then set a team record in the 100 Free and was also part of the winning 400 Free Relay with sophomore Jack Schell, junior Richie Jaramillo and senior Nathan Jess that set another team record with a 3:19.06.
    Other big wins for the team included, Jaramillo in the 100 back and sophomore Abigail Miller in the 100 Breast. The girls' 400 Free Relay of Warner, sophomore Jenna Sprigman, Smith,  and Miller also clinched 1st. Miller, who  previously won the 100 Breast on Jan 26th at the SJISA South Jersey Coaches Invitational said of Tuesday's win, "It's really awesome to go a best time mid-season. I'm looking forward to what the rest of it will bring. As for our Tri-county conference success: everyone did their piece to contribute, which made winning all the better. In the end, every point counted and it was really a whole team victory."
     The "whole team victory"  definitely includes those placing 2nd and 3rd to score points.  Gavin Miller finished 2nd in the 200 IM, Abby Miller finished second in the 100 Fly and  Cara Heino took second in the 100 Free. Aubrey Miller (200 IM), Jenna Sprigman (500 Free), and Jenna Powell (100 Back) scored third place points for the team.
     The team's next big challenge is the  NJSIAA Playoffs.
Read more drom NJ.com: http://highschoolsports.nj.com/school/woolwich-twp-kingsway/teams