Kingsway's First Science Olympiad Team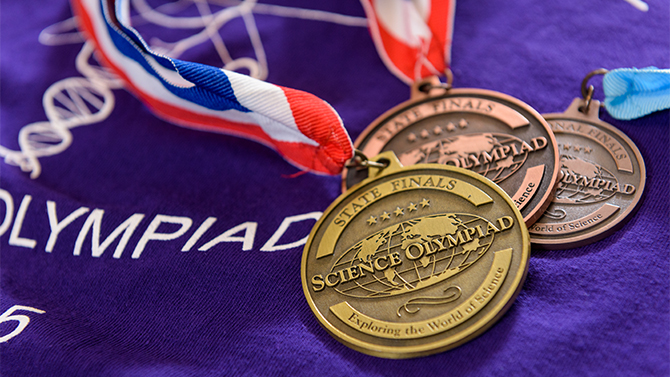 Briana Worrell and Maddy Phun
February 28, 2019
 Kingsway's STEM Academy competed in its first ever Science Olympiad competition. The Science Olympiad is a national competition consisting in a series of events in which students are tested in their knowledge and application of different fields of science. Kingsway entered the New Jersey divisional competition, becoming the first school from the county to ever compete. A team of 24 STEM Academy students headed to the Rutgers Camden County Campus  on January 10 to compete against 18 other high schools from all parts of New Jersey in 14 different events. Kingsway finished 10th overall, with several event medalists:
Juniors Samuel Allen and Nikolaos Kalfas placed 2nd in the Dynamic Planet event.
Sophomores Seth Sims and Olivia Smith placed 2nd in the Herpetology event.
Sophomores Evan Bretz and Michael Parker placed 6th in the Mousetrap Vehicle event.
Sophomores Madison Phun and Briana Worrell placed 6th in the Write-It, Do-It event.
Parker and  Bretz, placing medalists and participants in the Mousetrap Vehicle event, were tasked with building a car, fully powered by a mousetrap being set off, under the time constraints of 15 hours!
Speaking about the competition, Michael Parker shared, "The Science Olympiad was a great experience for everyone that came. It was nice to represent and see Kingsway do so well, despite it being our first time competing. Also, Evan and I got to see other designs that can help us next year, if we were to do it again. Overall, it was a phenomenal experience, and hopefully we will do even better next year."
Evan Bretz, said, "Even though it was our first year, our participants were still able to place in an overall 9th seat (of 19) and take home 4 medals, two of which were 2nd place. It was so exciting for me and my partner, Michael Parker to participate in the challenge and hear our names called up on stage. Due to a shortage of time and supplies, however, we goofed, and had to do the whole project in a day, where other schools had up to 4 months – and we still beat 13 other teams. This experience, however, will only let us improve for next year."
Stem participants were especially thankful to STEM Academy adviser and Science Olympiad Team coach, Ann Marie Moraca, who guided the team through this competition. Between events, she encouraged each duo to compete to their best ability and especially not forget to have fun and enjoy the time being there, no matter how stressful the environment seemed.