A Hidden Gem: History of Mount Zion AME Church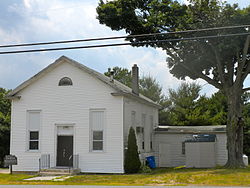 In history class,  students  get a sense of the big picture of the various conflicts, movements, and innovations that led them to where they are today, but  they  often overlook the more intimate, personal parts of our nation's past. For this Black History month, it would be apt to take a look at one such piece of history, a sight of bold action against tyranny situated quite literally in Kingsway's  backyard. 
Mount Zion church is located at 172 Garwin Road, Woolwich Township, New Jersey, directly across the street from Kingsway High School. Founded in 1799, Mount Zion was one of the first branches of the African Methodist Episcopal church, the first black-led denomination in the United States. Mount Zion served as a chapel and meeting house for the freedmen's community of Small Gloucester, a village of freed slaves established through donations of land and money by local Quakers, in what is now Woolwich Township. 
The church was also a stop on the Underground Railroad; several escaped slaves stayed there before being transported further north to New York, and the trap door to the crawl space where the escapees hid from slave hunters is still intact. Additionally, several escaped slaves and black Civil War soldiers are buried in Mount Zion's cemetery, and the grave sites of several more individuals have been discovered in the surrounding area. The members of Mount Zion's congregation routinely risked their lives to help people escape slavery, as assisting escaped slaves was a crime punishable with fines, jail time, and even execution folowing the passage of the Fugitive Slave Act in 1850. 
The church has received some historical recognition; it was added to the National Register of Historic Places in 2001, and congregations still meet there to worship every Sunday. However, given its proximity to the Swedesboro-Woolwich community, and the importance of the events that took place there, Mount Zion has not gotten nearly enough exposure. There is a mountain of stories the church's staff have preserved throughout the years, and we do not have time to list even a fraction of them, so community are encouraged to pop by on Sunday for a visit. Kingsway could even organize field trips for history classes. It wouldn't be that much of a hassle; the church is literally right next door.