Girls and boys swim teams successful despite pandemic, Girls win Royal Division title
Swimming outdoors in winter, doing laps in pools at local gyms, and getting up at 4 am to swim before school at GCIT; these are a few of the extreme measures members of Kingsway's girls and boys swim teams took to be in competitive shape for their season which resulted in a Tri-county  Royal Division Championship for the girls and a 2nd place for the boys. The girls were also the South Jersey Times' Team of the Year.
     Senior Abigail Miller who specializes in breaststroke and freestyle explained, "Swimming has been really difficult during this pandemic because there are not many pools in which to practice. Only so many people can be in a lane to swim and many gyms only allow one person with a limited time of 30 to 45 minutes. For other sports, you can stay in shape by practicing on the fields or even at home. This was not possible for swimmers."
    Most club swim teams were able to operate with limited time up until December when club practices were shut down by the Governor. Then when the practice was allowed again some club programs did not return to practice. Miller and many other swimmers took out memberships at gyms with pools like Riverwinds in West Deptford. There, they reserved lanes weekly when they could and worked out their own practice routines and schedules.
    Once swim season began, there was hope that they would have more practice time, but because so many teams were using the same pools, practices were limited to between one and three practices a week, hardly enough to keep swimmers in competitive shape. 
   Coach Shane Tubb, who coached both the boys and girls team without an assistant explained the problem "In a cardio-based sport, repetition and consistency are very important, so not getting much of either of those things made it difficult." Tubb who took Miller and many others to states last year was happy about the girls' title which was achieved by a huge win against  Clearview 88-82 on March 9 and clinched in the final meet against Williamstown on March 23.
   He said, "I am just so impressed with our girls this year, because this was a difficult year, coming into it, we felt we had some unfinished business. There were a lot of excuses this year if we wanted to use them, but none of us were willing to take them, and we were very successful because of it."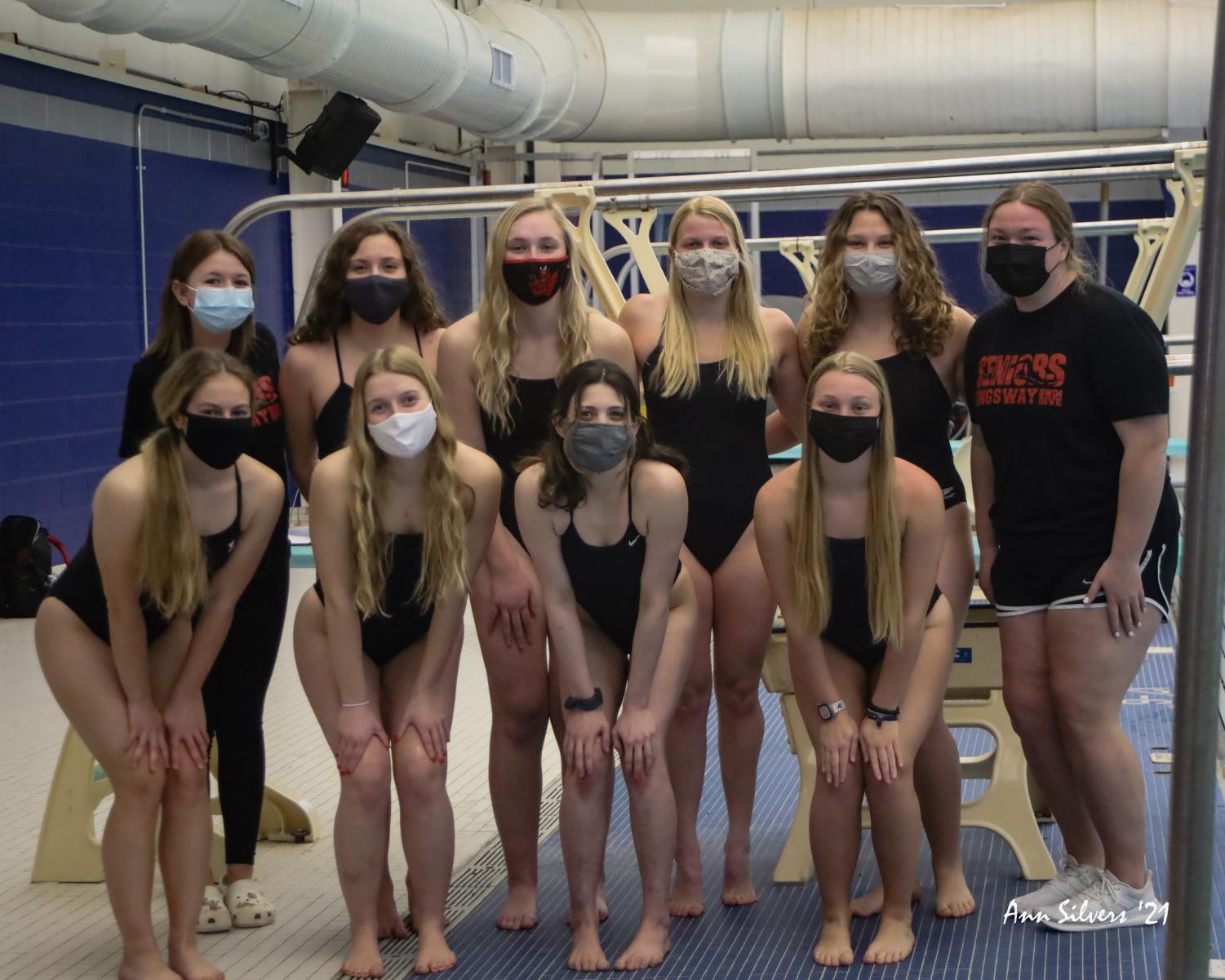 Tubb was also glad to coach a very strong senior team which included Miller, Olivia Smith, Kaitlyn Silvers, Jenna Powell, and Jenna Sprigman. Like Miller, Powell and Sprigman found local gyms to swim at in January after their club team was shut down. Smith and Silvers, however, had a truly unique experience.
     Their GPAC team swam outdoors for most of the fall and into December at various summer swim clubs because GCIT's pool was closed for renovation.  Their parents and the club rented pool heaters. "It was difficult to get up every morning at 4 a.m. to swim outside in the winter, but we were grateful because we were able to stay in shape while many other teams didn't have a pool," said Smith.
  For the boys' team, Smith's younger brother, sophomore Ryan Smith came close to helping his team capture a title, but the team led by seniors Bode Camann, Tave Chanthavong, and Jack Schell fell one win short in a loss to GCIT. Smith, however, was able to do the unthinkable; set a school record in the 500 Free during a pandemic.  He did this in Kingsway's only loss to GCIT, swimming a time of 4:56.49 and breaking Connor Bowen's record from 2018.
   Tubb said, "Ryan's efforts this year can't be overlooked. For him to come into this season and perform meet after meet was very impressive. It was nice to see that effort rewarded with a team record."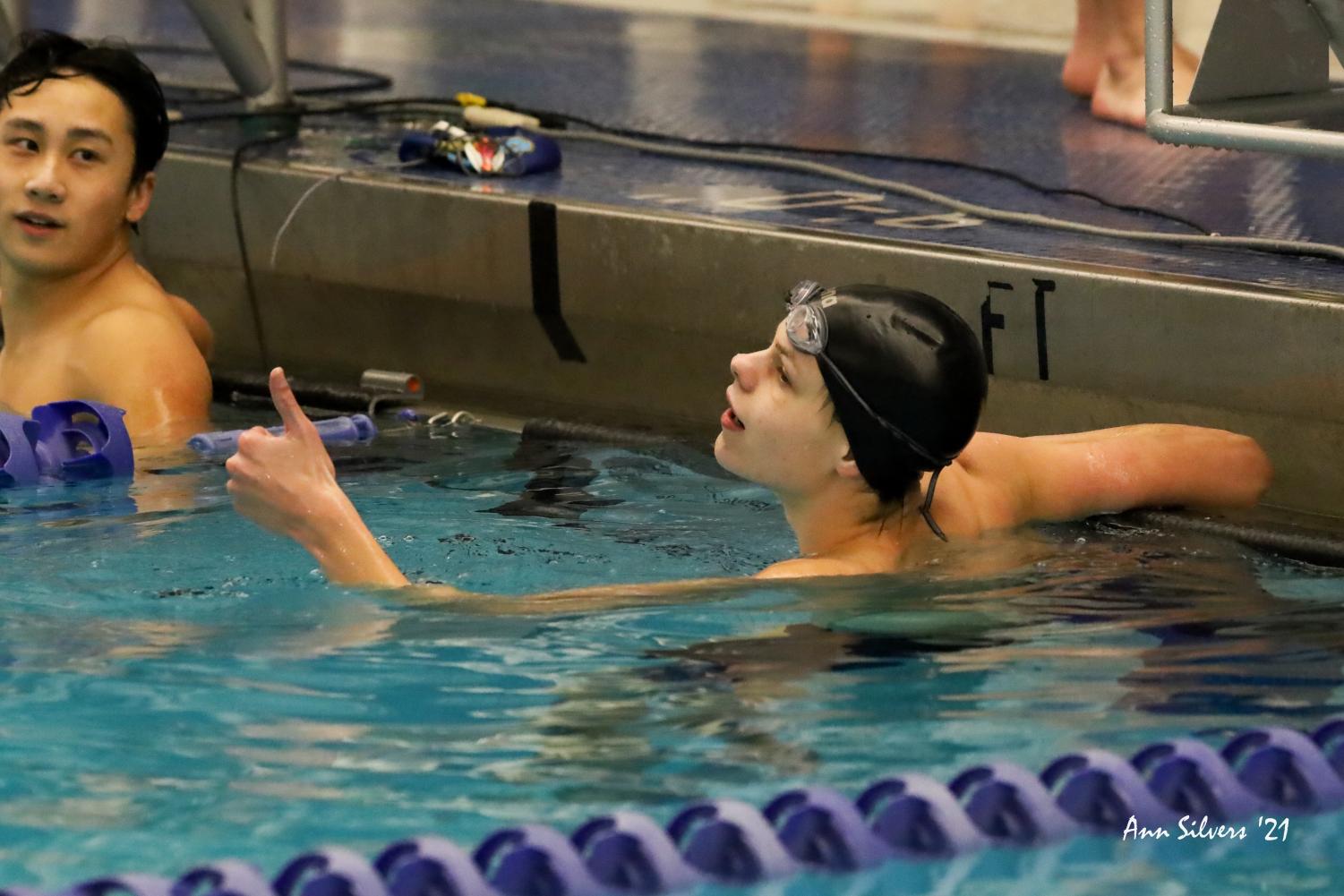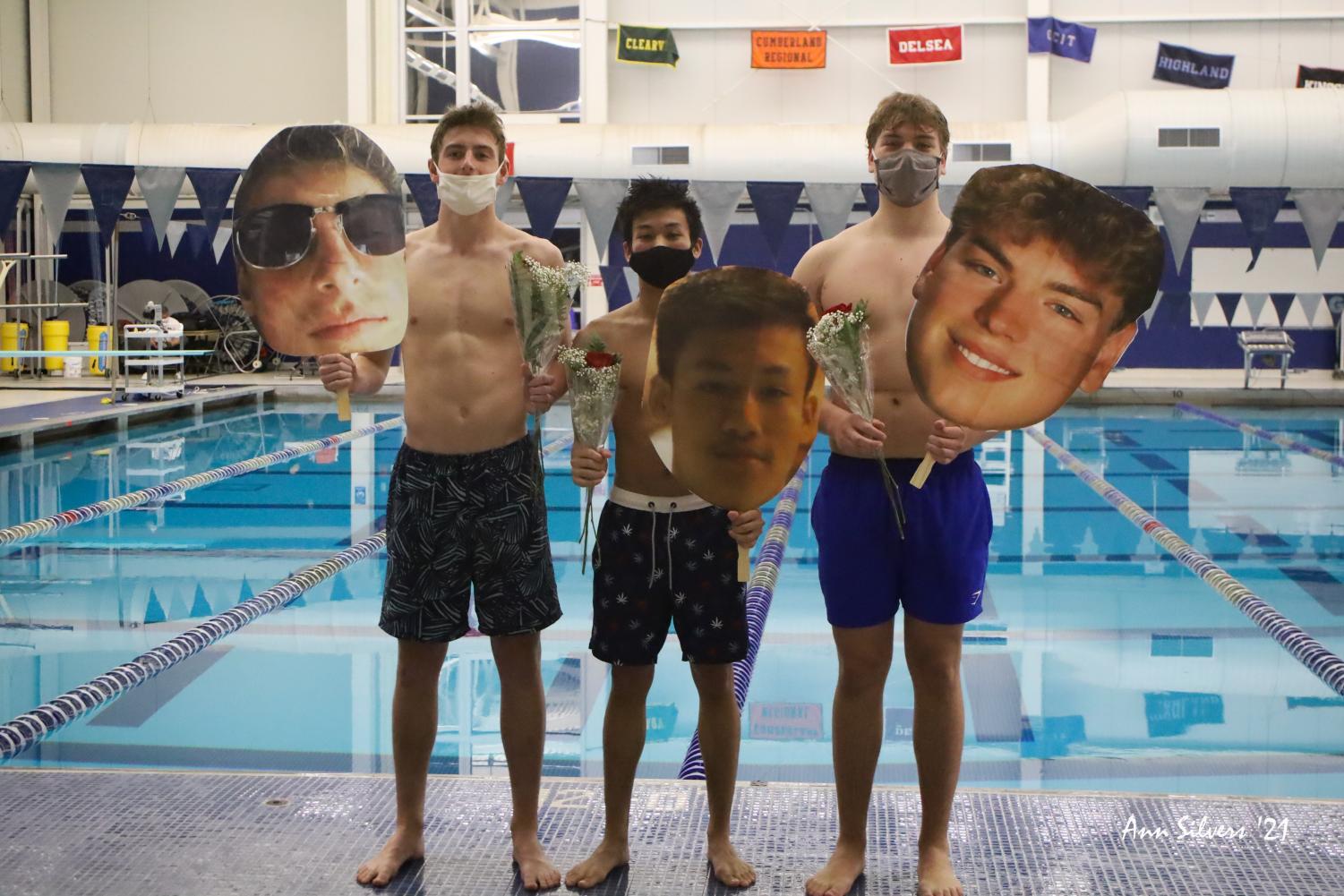 Smith, along with seniors Camann, Chanthavong, and Schell scored many points for the dragons in their meets. Chanthavong a specialist in breast, fly, and 200 IM will be sorely missed next year, and Schell will be missed in the freestyle events. 
  Camann, who was undefeated in 100 Backstroke for most of the season reflected on his year and "just appreciated the opportunity to keep swimming at the gym or for his TWAC team." He is continuing to swim 5 am practices at GCIT.
  No matter what the circumstances, these Kingsway swimmers will continue to find a way to be competitive in the sport they love.