Seniors Receive Outstanding Awards
Kingsway staff and administration honored the class of 2021  Wednesday, June 9 with senior awards in the South Gym of the school.  Superintendent James Lavender, Chief Academic Officer Patricia Calandro, Principal Melvin Allen, Director of Athletics and Activities, June Cioffi, and various teachers and coaches presented over 135 school and community recognition awards and scholarships.
Keynote speaker and Teacher of the Year, Connie Erickson gave a brief and inspiring keynote address to the students. It was followed by presentations for community awards, athletic awards and performing arts awards, Board of Education awards, and premier awards.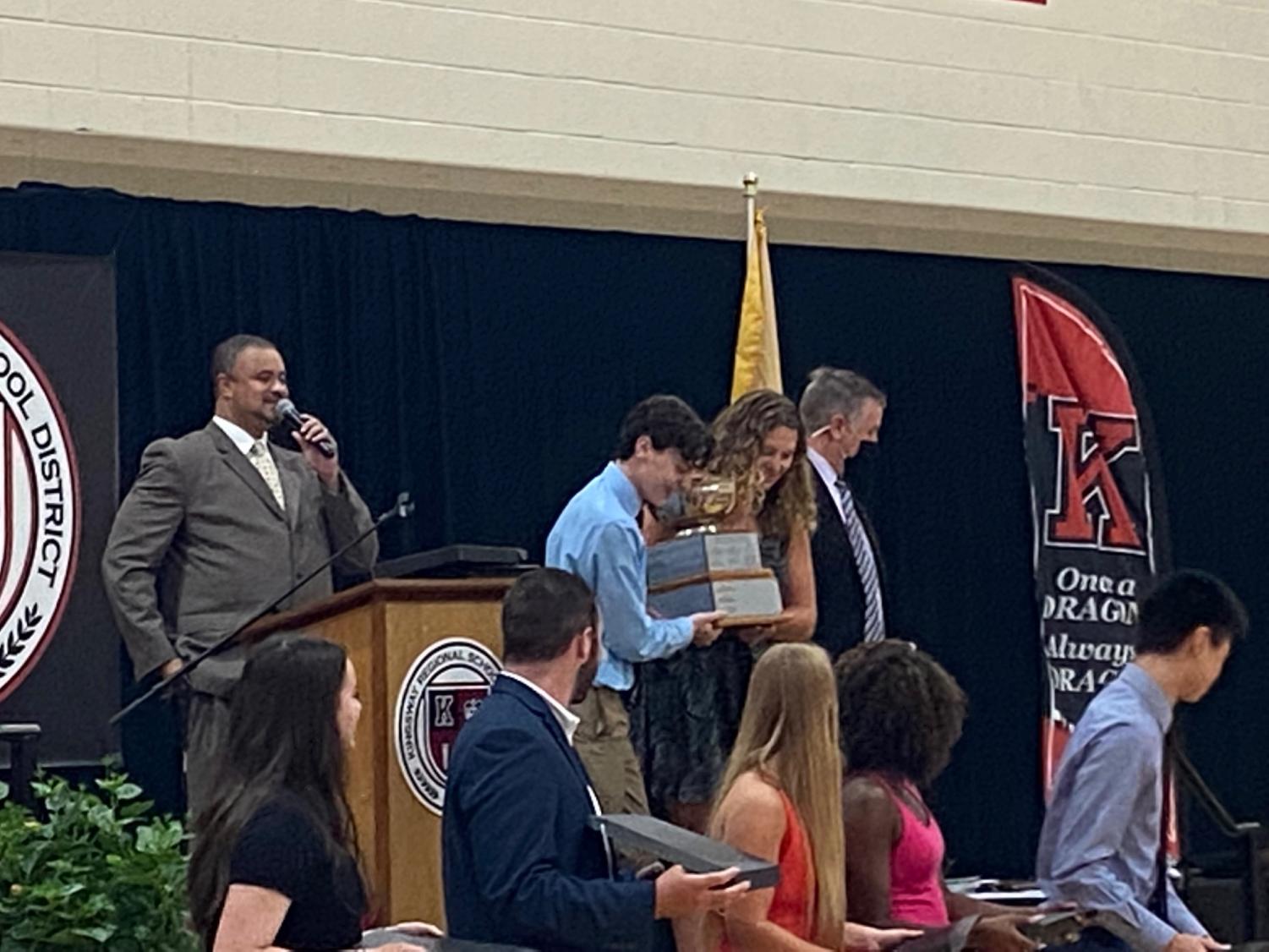 Senior of the Year went to Cole Griscom and Julia Nocentino. Described by Principal Allen as "the most prestigious senior award", it is given to two seniors out of 20 seniors of the month. To qualify for the award, seniors must have excellence in academics and be involved in both school and community activities. The students get their names engraved on a Kingsway Cup that holds the name of all past winners. Each senior also receives a specially engraved ring.
The other senior nominations were Dalton Britner, Sarah Cancilia, Joseph Collins III, Laken Franchetti, Kathryn Foth, Taylor Gray,  Riley Harker,  Megan Lail, Max Ma, Kelly Macias, Patrice Martin, Margaret Neyer, Camryn O'Rourke,   Madison Phun,   Rachel Robichaud, Connor Ward, Morgan Wordelmann and Abby Zuccato.
Lavender gave another extremely noteworthy award to students who obtained the Superintendent's List (all As) for all eight semesters of high school. These students received a special plaque commemorating their achievements.  They are Cole Griscom, Max Ma, Patrice Martin, Kavya Nuthi, Lauren Phan, Arthur Roney, Liam Wilkins, Briana Worrell.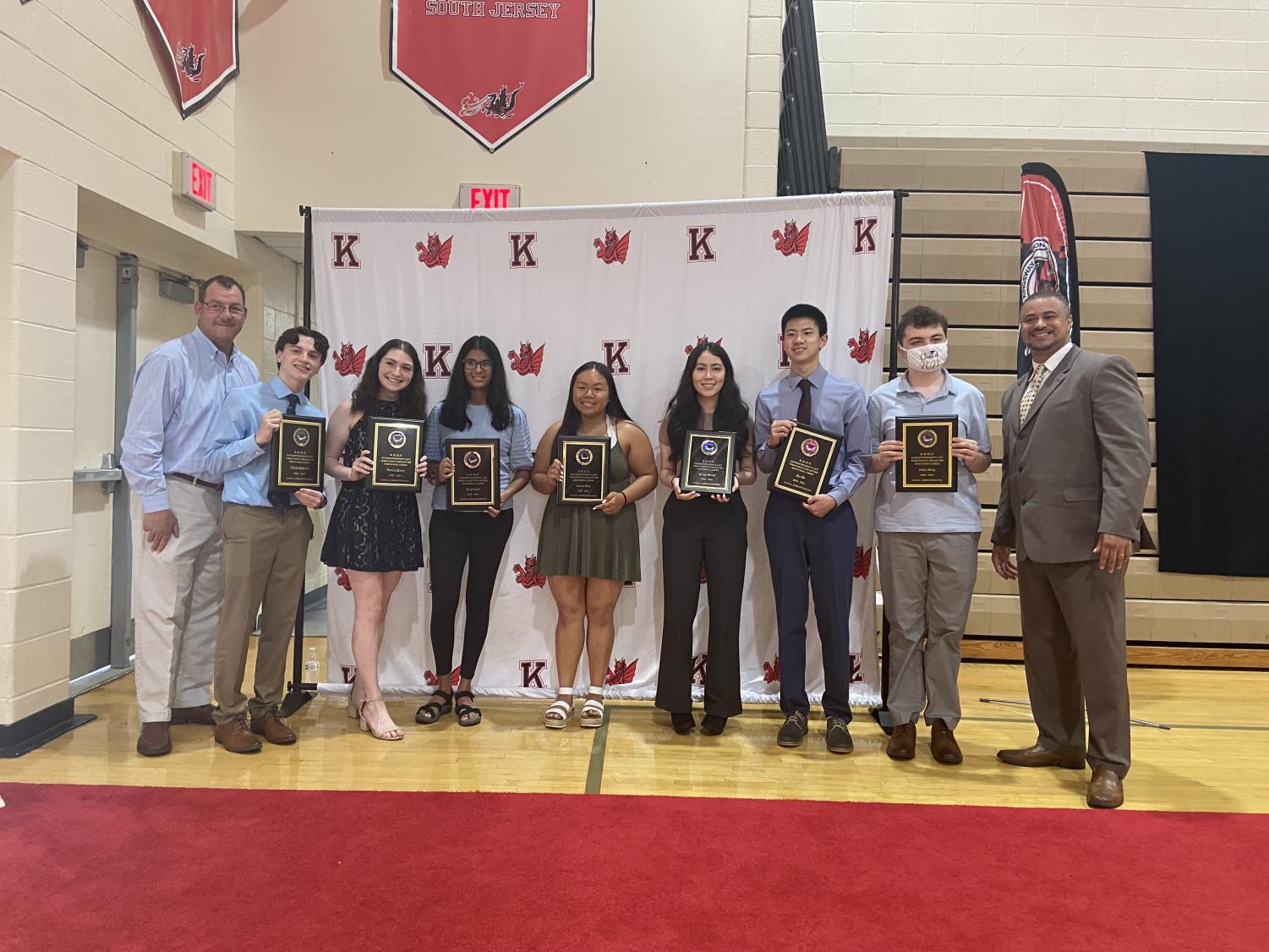 Calandro also awarded Griscom (Mathematics), Ma (English), Wilkins (Technology), and Worrell (Science) awards for the highest average in academic subjects for four years. They were joined by 10 other students: Allison Hillman (Art), Dalton Britner (Business), Grace Tedesco (Family & Consumer Science), Melanie Shultz (Music), Riley Harker (Physical Education), Joseph Collins III (Social Studies), James Emrick (Vocational Education). Haley Modi (French), Evan Bretz (Italian), and Amanda Chhour (Spanish).
The best athletes in the school for four years were also recognized. Cioffi handed out plaques and trophies to eight students.  Rachel Robichaud and Riley Harker received the Scholar-Athlete Award for participating in multiple sports and maintaining an outstanding GPA. The Athletic Achievement Award went to three students: Abigail Miller (Swimming), Kat Bott (Wrestling), and Justin Szestowicki (Baseball).  Dragon Awards for students exemplifying dragon spirit, pride, and excellent sportsmanship went to Sarah Cancilia, Conrad Cliver, and Zach Schneider.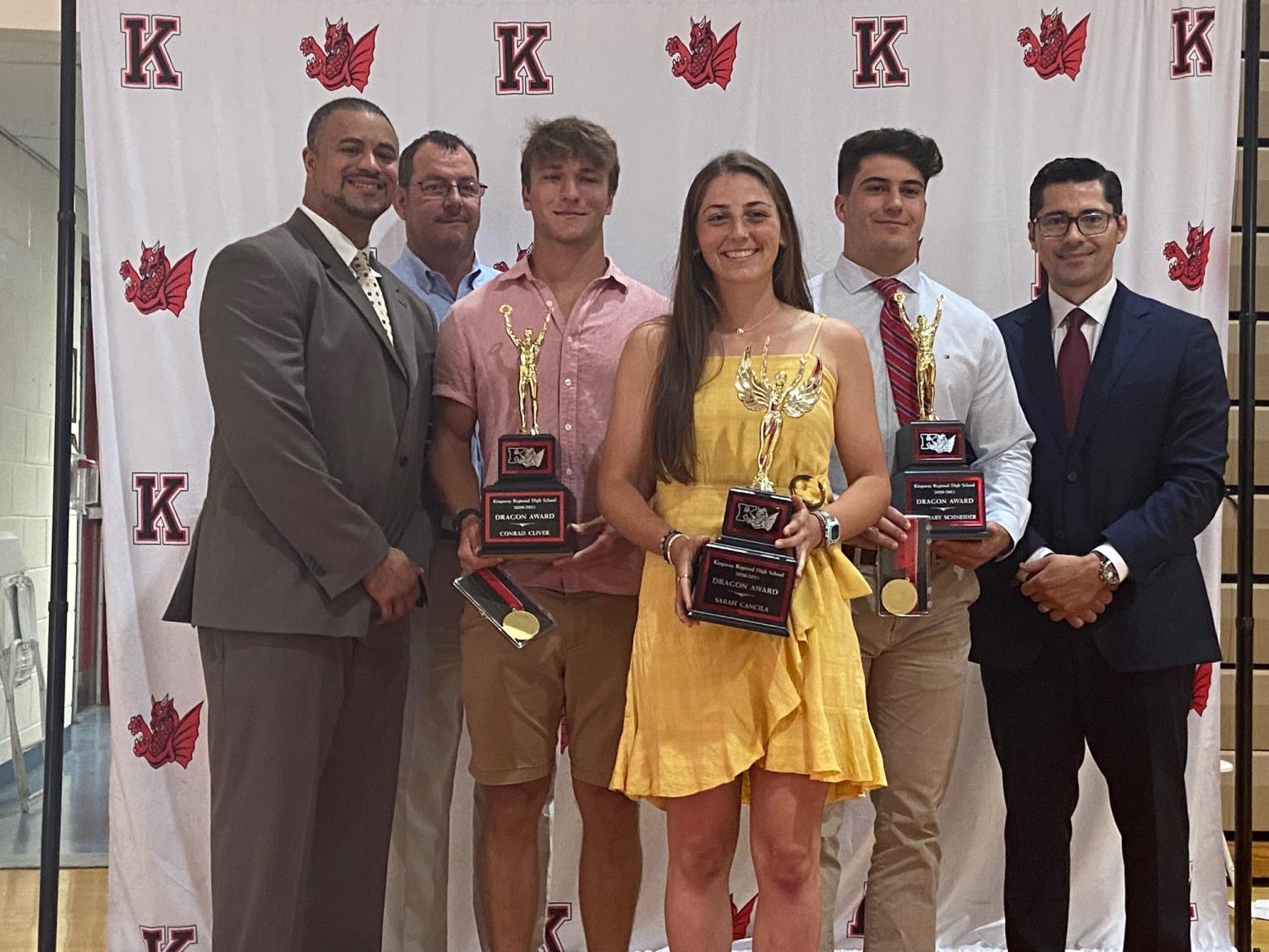 At the end of the ceremony, students were invited to have some refreshments. Parents were not permitted to attend but were able to view the Livestream, linked HERE.