Billie Eilish: Happier Than Ever Tour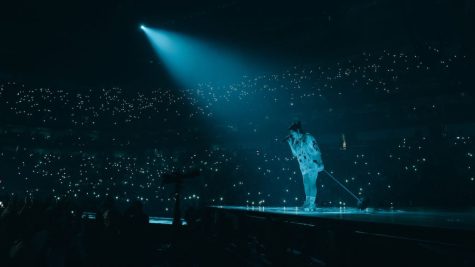 After much anticipation, Billie Eilish has kicked off yet another tour for her newest album, Happier Than Ever, and of course, it
was better than ever. With Willow Smith as an opener, and Billie as the main attraction, it was sure to be a fun night. Imagine my surprise when the opening act comes on, and it's not Willow! At first, I was a bit confused and disappointed because I had been prepared to enjoy a performance from Willow, but instead, we got Dora Jar. It didn't take long for me to forget my disappointment though because the stage presence Dora had was nothing short of phenomenal. Her alternative music style and the upbeat vibe were exactly on par with what fans of Billie love. So, it is easy to say that Dora was a perfect opener for a perfect show. 
After Dora's performance, it was time for the person we were all waiting for, Billie. To start off the show she threw us back to her old album When We All Fall Asleep, Where Do We Go?, with the song Bury a Friend. The crowd went wild. Throughout the entire show, Billie never failed to amaze us with the amazing lighting and graphics she portrayed along with her music. She also had a special surprise for her fans! As the concert took place on the day before Valentine's Day, Billie let us know that Valentine's Day was her favorite holiday, and she had Valentine's gifts for us. Midway through the show, she got mounted a crane and threw valentine's candy to her adoring fans. It was truly an amazing experience to see how she cared and wanted to share the holiday with her fans. 
From the intimate and vulnerable to the hype and upbeat songs, Eilish put on a great show that was truly an amazing experience. She ended the night with a fan favorite, Happier Than Ever. With an explosion of confetti and ambient lighting, she ended a beautiful night.
Leave a Comment