Kingsway Live a Hit; Rashem Bryant Crowned as King of Kingsway!
On Friday, February 25th, the annual Kingsway Live show was held in the Eitel Theater, bringing to the crowd an abundance of comedy, character, talent, and just an all-around good time.
Each year, twelve senior boys are voted on and selected to participate in the show, with each participant selecting an escort to help with their acts. This time around, those selected were Richard Bryan, Karl Bloomfield, Pat Roche, Ibrahim Haque, Jayneel Chauhan, Gabe Martorano, Tyler Torres, Rashem Bryant, Carter Bradson, Marc Cifone, Bobby Roddy, and Will Thompson (order of month each participant chose). As the night came to an end, Torres, in raising the most money for a charity of his choice, The Ronald McDonald House, won "Biggest Heart",  and the group as a whole raised $1,055.03. Bradson and Torres were awarded "Best Lip Sync", Thompson was the People's Choice Winner, Bryant named "Best Strut", Cifone as the overall runner-up, and Bryant once again, given the ultimate title of "King of Kingsway".
Bryant, who was also named Homecoming King back in October embraced his role as a people's champion of sorts, saying after his victory, "Honestly it feels amazing. I get to represent multiple groups of people under one title, which truly means a lot to me. I just want to be a role model for those who look towards me for influence". 
The night opened with introduction videos for each boy, exemplifying their creative and comedic abilities, as each was represented by a month and chose a sport to base their video and outfits on. After Thompson's, or Mr. December's introduction video, all the contestants came together and eventually met up on stage in the same costumes they had worn in their videos.
The night opened with introduction videos for each boy, exemplifying their creative and comedic abilities, as each was represented by a month and chose a sport to base their video and outfits on. After Thompson's, or Mr. December's introduction video, all the contestants came together and eventually met up on stage in the same costumes they had worn in their videos, connecting their videos with their real-life performances and getting the crowd into the show from the get-go.
Speaking on the creation of these videos, Haque said he "thought of who the crowd would want to see, because I always know they look for guest appearances…" and came to the conclusion that there's nothing "better than Mercado in a singlet". Based on the crowd reaction Haque's video garnered, his strategy was certainly a success.
Next up was a musical performance from Margot Jones, who was also Cifone's escort for the show, with a superb performance of Amy Winehouse's "Valerie".  Jones, who is a member of the school choir as well as the Philadelphia Girls Choir, exemplified her talents as the crowd got into the song, clapping along to the beat and emphatically cheering as she sang the final notes.
Then it was time for each participant to be introduced on stage by their chosen month while being given the free reign to dance and really interact with the audience. Backed by cheesy, yet witty commentary from hosts Erin Gray, Carly Oberg, and Sarah Mower, the boys delivered endless funny moments in this segment. From accidental balloon popping by Bryan, or Mr. January, to Cupid, or Bloomfield, shooting arrows into the crowd, to everything from gold coins, candy canes, fruit snacks, and tee shirts, just about everything imaginable happened in a span of under 10 minutes. 
Truthfully, if the show had ended here, it still would have been considered a success, but luckily for everyone watching, there was so much more to come!
Next in store was arguably the most anticipated part of the show: the lip-sync competition, where each boy paired up to battle for the title of "Best Lip Sync". First, Roche and Bryan performed "The Time" by Black Eyed Peas, bringing out students working backstage for part of the dance. Following this was Bloomfield and Martorano singing to Mötley Crüe's "Kickstart My Heart", headbanging their way to thunderous applause. Then came a crowd favorite song and performance, "Promiscuous" by Nelly Furtado, lip-synced by Haque and Chauhan, which also incorporated the help of Bryan and Roche. Although it seemed incredibly hard to top that performance, Torres and Bradson did just that with their reenactment of Big Time Rush's "Boyfriend", using props and help from the escorts to aid them in singing their way to later being awarded "Best Lip Sync".
On their victory, Bradson stated, "It felt good to win since Ty and I have been working hard at our routine for months. I think our creativity with the signs, lights, and help of the escorts along with the simplicity of a boy band song made it a very enjoyable experience for the audience". 
After the later-named winners, there were still two more highly entertaining performances, with Bryant and Cifone wearing orange jumpsuits and performing to "Industry Baby" by Lil Nas X. Because both Bryant and Cifone are involved in the performing arts at Kingsway, the choreography and stage presence for this act was especially exceptional. The last pair to go was Mr. November and December, or Roddy and Thompson performing to a classic, "YMCA" which to the crowd's surprise, smoothly transitioned to Shakira's "Hips Don't Lie". The judges were given the unfair task of picking just one of these performances to win, but if it was up to the audience, every boy would have won this round.
After the Lip Sync Battles, each contestant showed off their formal wear and their best strut with some help from their dates. Bryant strutted out with Chaney Carracio, leaving the stage like a wheelbarrow with Carracio grabbing his ankles. Then, Bloomfield walked out with Maddie Lavender, wearing a February-inspired pink dress, followed by Roche and senior class president Angelina Robostello, who wore a March-inspired green dress. Next up, and showing off handshakes and impressive choreography was Haque and Hailey Ambrose, succeeded by Chauhan and Korinne Ciechon who utilized money guns and cartwheeled across the stage. Martorano then returned to his lip-syncing style, rocking out with his date Lauren Keefer. Torres and Annie Barnsih walked out to "Treasure" by Bruno Mars while Bryant and Jess Lyons energetically danced their way across the stage. Bradson and Izzy Martella were next, captivating the crowd when Bradson "fainted" on stage, only to be revived by his date Martella so that they could finish their strut. Mr. October or Marc Cifone then walked out with Margot Jones and Roddy with KDTV's own, Kait Price. Finally, Thompson and his date Isabella Battaglia strutted out, concluding the segment by throwing money into the crowd. 
The next part of the show was a more personal, question-and-answer segment in order to get to know the contestants a little better. Each boy picked a random question out of a jar that they had to answer on the spot, followed by answering the prompt "What is the biggest life lesson you've learned during your time at Kingsway?" Questions asked ranged from "What's your go-to pickup line" to "How would you describe yourself in three words?" to "Which of the contestants would you not let date your sister?", making for some funny moments. 
Thompson specifically was asked the question "What's your biggest fear?", to which, while standing in front of an audience of over 450 people, replied "Public speaking". Giving an insight on how the whole process and preparation for this segment worked, Thompson said "the questions were given to us but we didn't know what question we were going to get. I just went out there and gave it my best shot off the top of my head". 
As the end of the show drew closer, all the participants and their dates came back onto the stage for one final dance to a mix of "American Boy" and "I Need A Hero". Then, the audience was given a blast from the past with a video of baby photos of each boy, which was a huge hit, followed by a little behind-the-scenes footage of preparation for the show.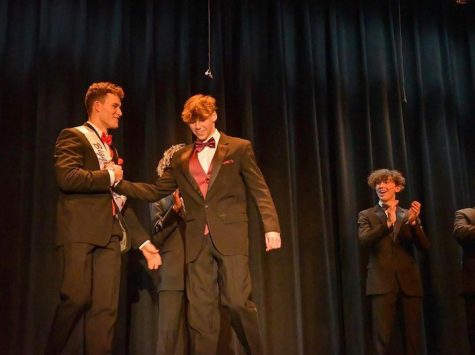 Being an escort on the show was definitely a one-of-a-kind experience, as instead of having two months to prepare and practice, the girls were given only a few weeks. It seemed to be an enjoyable experience nonetheless, with Price, Roddy's escort remarking that "It was a really cool experience… The practices leading up to the actual show were super fun and it was really awesome to become so close with everyone over such a little amount of time".
With the audience on the edge of their seats, anticipating for the winners to be announced, the hosts took a moment to give a special thanks to administrators, students, teachers, and really everyone who helped to make the show come together. With such a focus on the boys in the show, it was easy for the hosts to fly more or less under the radar, but they seemed to be tasked with essentially being the "glue" of the show. One of three hosts, Erin Gray, gave some insight on this job saying "our preparation took a lot of work and changed over the weeks leading up to the show. We wrote the script, so that was what we did during practices while the guys were learning the dances. After that, it was rereading, memorizing, and learning to not get distracted when there's a lot of other stuff going on next to you".
After this heartfelt hiatus from the main focus of the show, all the boys were brought to the stage, and winners were announced. With each boy and winner receiving ferocious cheers and applause, the show had come to an end. The crowd left with $5 less than they had before, but also with memories of enjoyment that will last a lifetime. In a busy night of hectic outfit changes, remixed songs, and high adrenaline, the whole crew came together to put on what will certainly go down as one of the best Kingsway Live shows the school has seen.
Leave a Comment