A Growing Solution for Depression: Pet Therapy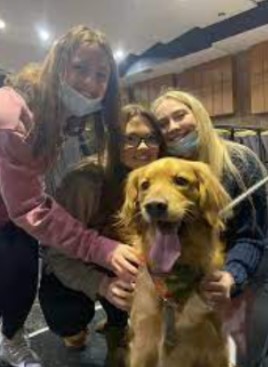 On January 28, Kingsway brought in pets for students who are looking for help with depression and anxiety. Students could sign up and were able to visit the pets during lunch and find comfort in the animals. This is called pet therapy; it is a growing field that uses dogs or other animals to help people recover from or better cope with health problems, such as heart disease, cancer, and mental health disorders.
In an article about pet therapy and depression, Dennis Thompson Jr., writes, "Researchers have found that interaction with pets — even if they don't belong to you — can reduce anxiety, ease blood pressure and heart rate, and offset feelings of depression." When people interact with pets, it can reduce anxiety, but also temporarily relieve different health issues.
Pet therapy helps people by creating a calming effect for them. An article about animal-assisted therapy, by Daniel Berek, says, "Stroking an animal can have a calming effect, and they can also serve as a nonjudgmental and nonthreatening companion." When people pet animals, it gives off a calming effect to help with anxiety. When people have gone through traumatic events they can see many people as threatening and judgemental. Pets provide a companion that they don't see that way.
Comfort animals are not the same as service animals. An article about animal-assisted therapy said, "Unlike service animals, comfort animals do not perform tasks; they simply provide emotional comfort to someone in need." Emotional support animals are not considered service animals but are trained for specific tasks and duties to aid a person. In order to be considered an emotional support animal, it must be prescribed by a mental health professional for a patient with a diagnosed psychological or emotional disorder, such as anxiety disorder, major depression, or panic attacks.
For people with anxiety and mood disorders, groups like the American Humane Association and The Delta Society offer animal-assisted therapy programs.
There are local groups that offer pet therapy as well. In the Gloucester County area, there is a group called FURever As Friends. They are a non-profit organization, and their services are to provide, "unconditional love via pet-assisted therapy to adults and children in a variety of different settings." Pet therapy has helped many people struggling, and will continue to thrive through groups and organizations like this one. It would be good for Kingsway to keep bringing in pets for therapy.
Leave a Comment