Meet Kingsway High School Teacher of the Year: Laura Reynolds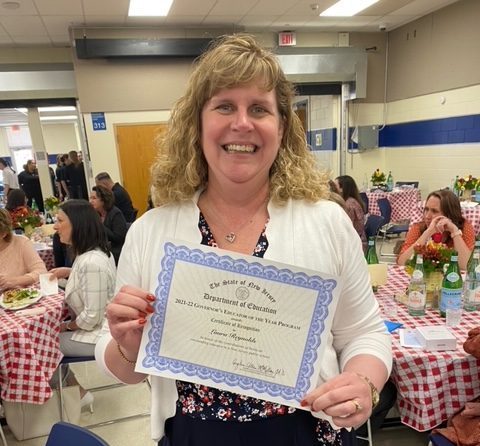 It is Teacher Appreciation Week the first week of May. So, a member of the newspaper staff sat down with math teacher and Teacher of the Year 2021-2022, Laura Reynolds. Here is what she found out.
Q: Can you give me some background about yourself?
I currently live in Swedesboro with my husband Mark and three children.  My husband and I met in college and moved to Swedesboro within a year of being married because it was the halfway mark, at the time, between both of our jobs.  We have three children, Sarah, Timothy and Daniel who all attended and graduated from Kingsway.
Q: What did you do before teaching?
Before becoming a teacher, I had several part-time jobs.  My favorite, and most interesting, was as an elevator operator for the Atlantic City Race Track.  The elevators at the track were hand-operated crank elevators and my friend and I got paid to take patrons up and down the three floors whenever the track was open during the summer.
 Q: What is your educational background?
I have lived in South Jersey all of my life and graduated from Oakcrest High School.  From there, I attended The College of New Jersey where I studied mathematics and secondary education earning a minor in psychology as well.  I began my teaching career at Buena Regional High School and taught there for 7 years before moving to Kingsway.  While there, I coached the girl's tennis team and was the assistant coach for winter cheerleading.  I continued to check to see if Kingsway was hiring for math because it was so much closer to my home.  I finally accepted a position with them in 1998.  Between the two schools, I have taught every math subject we offer here at Kingsway with the exception of Probability & Statistics and AP Calculus.
Q: What drove you to become a teacher, and when? Has teaching been what you expected it to be?
 I have, for as long as I can remember, always wanted to be a teacher.  My mother was disappointed that I wanted to teach at the high school level and continued to try to push me to teach the younger students, but that was never something that appealed to me.  I wanted to be able to talk to and feel connected to my students at a higher level.  I didn't think I would have the patience for the younger kids.
Q: What is one of your favorite things about teaching at Kingsway, or teaching in general (a memory, an aspect you personally value, etc.)?
I love that I can see my students out in the neighborhood.  I like running into them at work and getting to talk to them for a bit.  Especially when they are no longer in my class.  I love hearing how school or work is going for them.
 Q:  What is your best memory?
I have a lot of nice memories of meeting a student years later and talking to them about what they liked (or didn't like) about my class or school.  It is always so nice to see how they have grown or matured.  A couple of my favorites have been going to the wedding of former students that met in one of my classes.  Another was when a student came back from college on break to tell me that he had used the notes from my class to help him pass one of his college classes because they were so detailed.
Q: How has virtual learning affected your teaching or perspective on teaching? 
 Virtual learning has been very difficult for me.  When we first went virtual, I tried several different ways to be able to record a video and be able to write on the screen at the same time.  It was extremely difficult to do with math because it is a very visual type of instruction and the technology and material available to me at home were limited.  It would take me hours to get something to work the way I wanted it to.  Doing all virtual instruction was one of the most difficult things that I have ever tried to do.  I was so glad to learn that we would be able to come back in person – even in a hybrid setting and now sometimes remote – last year.
Q: What is something you wish more students knew about you or teachers in general? 
We care how our students are doing both in and out of the classroom.  It is upsetting to us when students aren't succeeding – especially when they are really trying and just continue to struggle.  We feel for them when things aren't going the way that they hope.  Our hearts ache if they don't make it into the play or if they get cut from the team.  We feel bad when they lose a big game or match.  We want you to be successful and to have all that they wish for.  We also love when they come back to visit to catch us up or to tell us that they miss our class.  It makes us happy and proud of them and gives us a sense that what we do each day really matters.
For a a beautiful dedication to this teacher and mother on the approach of Mother's Day, click the link below.
In Honor of A Mother and Teacher of the Year from a fellow teacher
Leave a Comment