Kingsway Live requires time, talent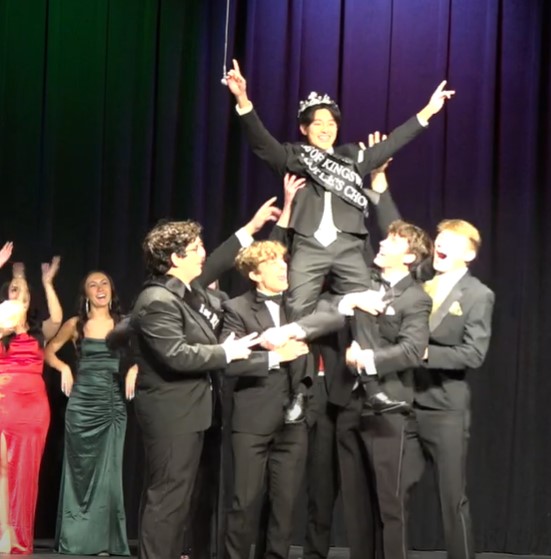 12 boys stand in a line on stage; they all eagerly await the coming announcement of who will become the new Mr. Kingsway. The crown shimmers in the hands of Rashem Bryant, who was crowned as last year's Mr. Kingsway. The hosts begin to announce the second runner-up, Roman Kuzmick, and then the first runner-up,  Danny Allen. After all the anticipation and excitement, Jason Zheng is announced and crowned as 2023's new Mr. Kingsway.
Zheng won the crown by playing Gru in his film of "Despicable Me," dancing creatively and stunning the judges with some very good answers in the question round. He had this to say about his experience.
"It is definitely hard for me to name my favorite thing about this show – there really are so many great options to choose from. The dancing was of course super fun, but ultimately the best part was definitely all of the people who were involved. The wonderful memories and experiences with all of these amazing people are what I will cherish moving forward."
"One of my main takeaways from this experience has to be how worth it is to take chances outside of your comfort zone. Putting myself in these kinds of situations is how I have learned so much about myself, grown as a person, and ultimately how I have stumbled into some of the greatest experiences of my life" said Zheng.
After school hours, not many people may know what kind of practicing and work is going on inside the auditorium. For 3 months, 12 boys from Kingsway highschool were preparing for their Kingsway Live show, which took lots of dedication and hard work. During those months a selection for the show went on, the 12 boys had to practice together, the boys did their performance together, and were asked about their favorite and hardest part of the show.
There is more to being selected for the show than most people would think. The first step is that a google form is sent out to the school students to vote for 12 boys who they think should be on Kingsway Live. This takes place in December. They then take the top 20 boys who got the most votes. If wanting to be part of the show there is an audition that takes place and 12 boys are taken from the 20. Everything is volunteer so if someone did not want to be a part of the show they did not have to be. After auditions and 12 boys are selected, practices begin.
Once the 12 boys got back from winter break, they practiced long and hard each week to prepare to go on stage. Luke Wordelmann, one of the Kingsway Live contestants, said, "We've had practice twice a week for two hours each day. This week, we have rehearsals for four hours each day." In total, the boys practiced and worked together for over 30 hours. During the times they would meet and have practice, the boys worked on 2 group dance numbers, a dance number with their escort, the escort struts, and their personal introductions. After all these rehearsals, Kingsway Live begins to come together, and the boys start to prepare for the real show.
On the night of the performance, the auditorium was full of parents and students coming to see who would be crowned the new Mr. Kingsway. When the performance started, the audience viewed a video introducing each boy through a  movie character and skit that they chose and filmed. After the movie ended, the boys started their first dance number which was the opening act. After the dance number concluded, each boy was introduced individually by their respective month, and they all came on stage in a costume depicting that month. Shortly after that, the boys had gotten into pairs to compete in a lip-sync battle with each other, which helped the audience afterward to vote and decide who would win people's choice awards during the final ceremony.
But, before the final ceremony, each boy had their own escort strut to a song of their choice, which led to a mother-son dance. The boys then had an on-stage Q&A with the hosts, before their final dance number which included everyone in the show, and led directly into the final ceremony, where all the boys would be presented with sashes according to what they had won.
Some other boys were interviewed about their favorite and hardest parts of the show. Jake Mason said, "All the laughs and fun with my friends every practice, and performing at the winter formal to break the ice and a lot of our nerves." A lot of the boys had said they liked being with their friends and making dances, though it could be hard sometimes.
Luke Wordelmann said, "It was difficult to choreograph exactly what we wanted and a lot of the guys put together really good performances so it's competitive." They put a lot of time into their dances and making sure it looked good on performance night was important to them.
Leave a Comment